Introduction
ILCEC offers systematic and intensive programs for the learners having high school diploma or equivalent certificate.
The course consists 6 levels and each level duration is total 10 weeks, 5 days in a week, 4 hours in a day and 200 hours in a whole.
Morning session starts from 9am to 1pm. Evening session starts from 1:30pm to 5:30pm.
Students will get the graduation certificate certified by the Chancellor of Sangmyung University.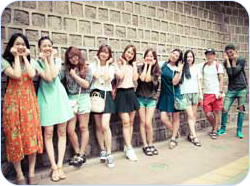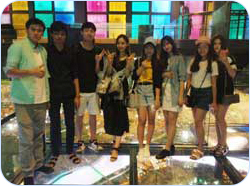 Level Description
Level Description
level 1
Can communicate in basic korean language. Can greet people in korean society, introduce oneself, order food, buy items, use transportation, post office, hospital, public telephone etcetera. It helps students to communicate in korean society with basic korean language communication skills.
beginner
level 2
level 3
Generally can communicate in korean language. Intermediate level helps students to discuss general topics with korean people. It helps students to read and understand korean newspapers, and the television contents to some extent. In short it helps them to enhance language capability to survive in korea society without any hurdle and language barrier.
Intermediate
level 4
level 5
Expert to communicate in korean language. for example, expert to understand professional reading materials or write in Korean language. Can do general tasks in Korean companies. It helps students to understand general course subjects at university level offered in Korean language.
High
level 6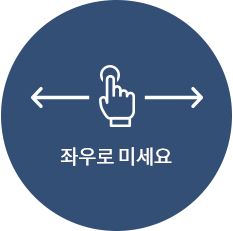 Academic Schedule: 2020~2021
School Calendar

Year

Semester

Course Period

Schedule

Placement Test

Application

Deadline

Deadline for

Tuition

Payment

2020

Spring

2020.03.16(Mon) ~ 2020.05.25(Mon)

2020.02.10(Mon)

2020.02.26(Wed)

2020.03.11(Wed)

Summer

2020.06.15(Mon) ~ 2020.08.21(Fri)

2020.05.08(Fri)

2020.05.26(Tue)

2020.06.10(Wed)

Fall

2020.09.14(Mon) ~ 2020.11.24(Tue)

2020.08.07(Fri)

2020.08.25(Tue)

2020.09.09(Wed)

Winter

2020.12.14(Mon) ~ 2021.02.23(Tue)

2020.11.06(Fri)

2020.11.24(Tue)

2020.12.09(Wed)

2021

Spring

2021.03.15(Mon) ~ 2021.05.24(Mon)

2021.02.09(Tue)

2021.02.24(Wed)

2021.03.10(Wed)

Summer

2021.06.14(Mon) ~ 2021.08.20(Fri)

2021.05.07(Fri)

2021.05.25(Tue)

2021.06.09(Wed)

Fall

2021.09.13(Mon) ~ 2021.11.23(Tue)

2021.08.06(Fri)

2021.08.24(Tue)

2021.09.08(Wed)

Winter

2021.12.13(Mon) ~ 2022.02.21(Mon)

2021.11.08(Mon)

2021.11.25(Thu)

2021.12.08(Wed)